This is a test post. I'm too busy with working silly hours and running myself into an early grave haha.
15th January 2022

Adie is safe but I have loads of work to do. Bow ratchet needs greasing and something constructed to protect the actual bow of the boat when moored bow too.
The bow is very low which is fantastic as my legs are quite short and a low bow makes stepping aboard easy. The ratchet doesn't have much room to do it's ratcheting thing though so it is bearing down on the metal bit at the very front of the pointy bit, Fairlead I think it is called.
Anyway the biggest event of 2022 will be on Friday 21st, next week. I put my notice in at work and that's my last shift. I am too fatigued to carry on. Medical and very expensive CPC is due soon so I am putting an end to that caper. I'm not prepared to sit through 35 hours of pointless 'training' and waste a weeks holidays for the privilege of another 5 years of being exploited. £500 and a weeks holiday to attend a glorified speed awareness course. I think not Boris. xx
8th December 2021

Another severe gale wafted through last night. It was mainly SE this time and it gathered up sand from the beach and sprinkled it all over our boats.

I think there was further damage to some boats, what rotten luck. I can imagine the feeling the owners had when they saw their much loved boats with damage inflicted by the wicked storms of late.

I have been lucky, hope my luck holds. I would be devastated if anything happens to my Aidee. I can't get back to Blyth until Sunday now. I have to put it out of my head or I won't sleep. I'm very fatigued as it is, too old. xx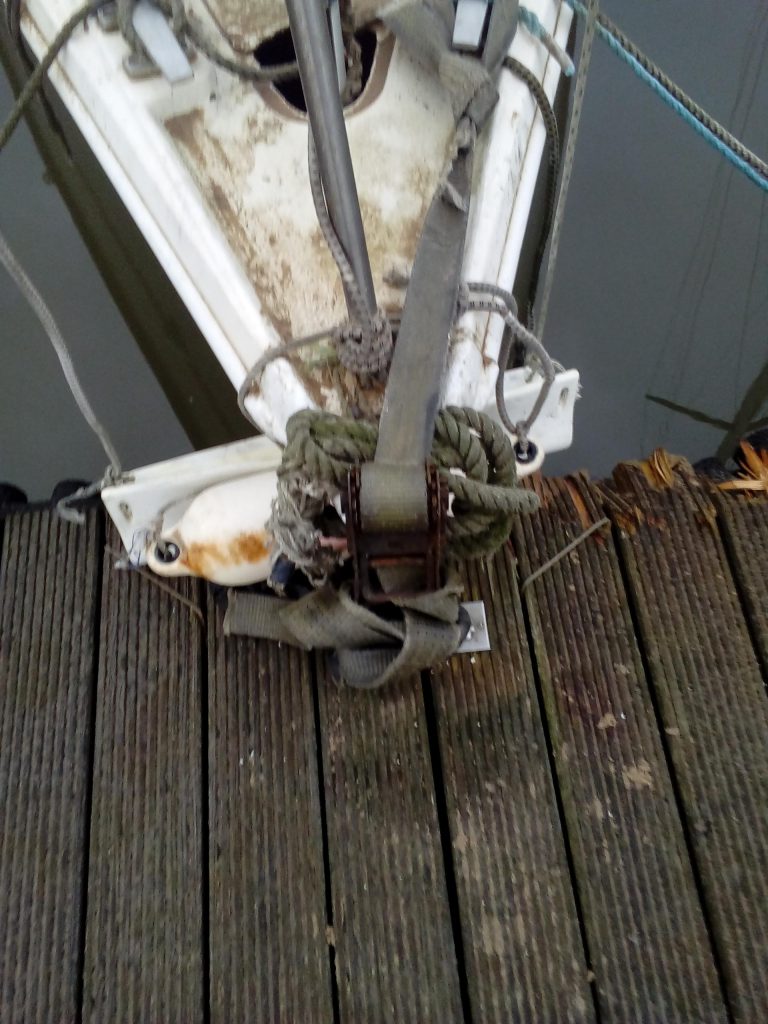 Temporary arrangement of the Bow ratchet thingy.
1st. December 2021. I have so much to do. I have been having to work extra shifts and the fatigue is almost at the point where I will have to do something. I must cut stress, number of hours worked and get a lot of real rest. Fatigue is not just being tired, sleep cures that. Fatigue is a very serious condition that eventually triggers all sorts of serious and fatal health conditions.
I made an attempt at video blogging haha. I'm not very good at it as can be seen above. Never mind it's just a bit of fun and good practice.
My heart goes out to anyone whose boat suffered damage. I can't believe the Pilot Cutter broke free. Someone told me that so It's only hearsay.

I had been to Mitford to see Susan my Laser Treatment Technician for a session of agony. It does work thank God. Very expensive but well worth it. I have not had any thoughts or attempts at suicide since I started living as my true self and Laser treatment is one of the main factors in helping me overcome dysphoria.

I will hopefully have my engine fixed by the New Year. I can't remember how a couple of bits fit back into it. It must be obvious as I made a mental note telling myself there was no need to take a photo before taking it apart as it was obvious. I should have waited till the batteries had charged and I could use the camera and took pictures anyway.
Quick bio update November 2021. Single, 63 nearly, working, 5'6 or 7, 10st, mix of original/upgraded teeth, I don't have time for anything other than work and trying to recover from work in order to go back to work the next week. I can't manage for much longer so something will change soon one way or another.
When I get the chance I will get back to enjoying my hobbies. I gave up trying to find love and romance/dating and all that carry on. I don't think I'm even interested anymore and am self conscious about my lousy body so don't want to get to close to anyone. xx
This is just a test